Yes, that's exactly what this was...a vacation from a vacation. Well, at least that's what I like to call it.
For three days and two nights we decided to abandon the backpacker lifestyle and live all inclusively on a little cruiser inside of Ha Long Bay. While it was one of the most indulgent things we did on our trip, it luckily was worth every penny (I've heard horror stories from other travelers) and I understand whole heartedly why Ha Long Bay is nominated to be one of the seven wonders of the world. Everything about it is magical and mysterious, from the thousands of limestone islets to the tranquil emerald waters they jet out from.

Just being there makes you feel slightly whimsical, like you've stumbled into a pirate's secret cove and there's a hidden treasure to be found. It is indeed a breathtaking place and the sight of it alone causes you to marvel at the way in which our world is formed. But behind this wondrous bay is a story that cannot help but captivate you while you are in the presence of these vast karsts. Legend has it that long ago, during a war with Chinese invaders, the gods sent down a family of dragons to help defend the Vietnamese. To help fight off the Chinese, the dragons spit jade and jewels into the sea, forming the limestone islands to protect the land (now known as Vietnam) and the people. Now it is believed that the mother dragon dwells in Ha Long Bay, while her children live in the bays surrounding. Now I know it's just a tale, but I swear, when you're there, this story really does resonate with you. That's just how miraculous this place really is.

Our cruiser (also known as a "junk") had around eight cabins, a dining room and a top deck that was perfect for lounging. During our days, we visited Surprise Cave (the best one to see), kayaked around islands and through caves, toured a fishing village, an oyster farm, a beach, and hiked one of the limestone formations. At night, we took a cooking class, lounged on the top deck, swam in the turquoise waters, sang karaoke and even went fishing for squid (although we never caught any). All in all, it was an excellent mini-vacation, but what made it even better was the amazing group of people we got luckily grouped with. From the very beginning we were quite the loud bunch, which is not surprising considering our group was a mix of Australians and Americans. I can't remember a time when laughs didn't fill the air, and all of our sit down meals felt like big family occasions. Yes, we got to do incredible things on this cruise, but I honestly don't think we would have had as great a time as we did had we not met Angela and her girls, the Baker boys, Matty, Paul and Chu. Sometimes, it's not where you are or what you do that matters. It's who you're with. And this time I was truly blessed to be with some of the nicest people I've ever met traveling, along with the man of my dreams by my side.





We hiked/climbed to the top of one of the limestone mountains from the beach you can see below us.
Of course it started raining the moment we got to the top, which made for a very slippery descent, but it was still worth it. It always is.
On our first day, we went kayaking around a lot of the islands. I did very little work (I'm not really a lover of Kayaking), but Andy was amazing. Kayaking in front of us are the Baker Boys, a father and son traveling together from Australia who are both so kind and so sweet. It was an honor to meet them.
We went kayaking through this cave on the first day and I thought it was so cool until...


...our 2nd day when we kayaked pretty much on our own. Of course we went straight for the smallest, darkest caves we could find. Without our headlamp on we were in wading in complete and utter darkness listening to the snickering bats above us, but with our headlamp on, we could see them flying all over the place. Sometimes right in between us. There were definitely moments where I thought our kayak was going to tip due to us trying to avoid being hit by a bat, but lucky for us it didn't.
This is "Surprise Cave" or "Amazing Cave" and once you walk through all 3 chambers you understand how it got it's name. It feels like you are no place a person has ever been before, like where the movie, "Journey to the Center of the Earth" was filmed. It is astonishing and absolutely humongous.
Our "cruise" ship.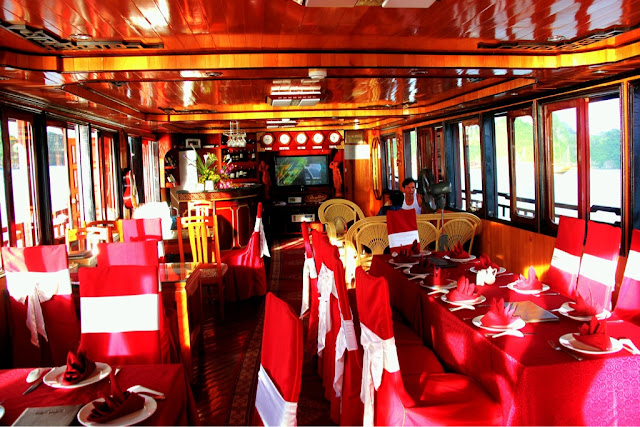 This is where we ate all of our family meals.
Our cabin.
The captain let me drive the boat. Literally, within moments of me taking over, we were already heading straight for an island. He tried to explain to me how to steer it, but in Vietnamese, his directions didn't do me much good.
A little relaxing on the top deck before dinner.
One of the most fun things we did (in my opinion) was jump off the top deck of the boat into the water. The pictures don't really do it justice, but that top deck is about 40 feet high. IT IS HIGH! I stalled for a long time before I finally jumped (my fear of heights had slightly paralyzed me), but I finally did it and it was AWESOME. You don't hit the water as soon as you expect to and it is exhilarating.
Cooking Class 101: How to Make Spring Rolls.
Angela is coaching Andy as he rolls his first spring roll.
Dinner time!
Boy did Ocean (our guide) like Karaoke. ESPECIALLY Brittany Spears!
But Ocean wasn't the only one who got into it....
We were slightly rushed when taking this picture so Peter and I snuck in by the back. Sadly, not everyone made this group shot, but these are some of the special people who made our Ha Long Bay Cruise so worthwhile!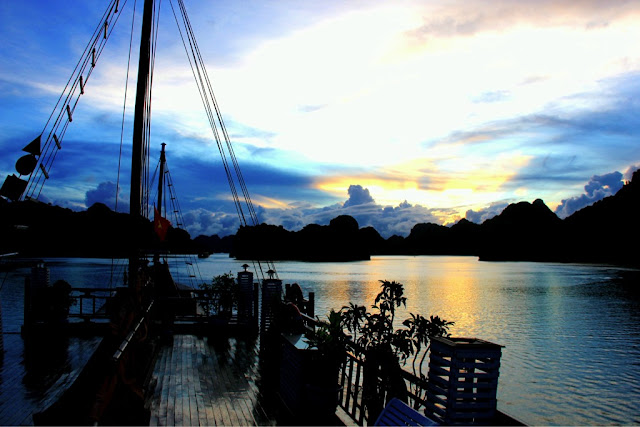 I felt blessed not only to have been there, but to have been there with Andy.
Being in an enchanting place with an enchanting person is a very powerful thing.