I truly believe that it's the little things in life that mean the most and nothing brought light to this more than the small river town known as Luang Prabang. Lined with cobblestone streets, Luang Prabang is a picturesque place, home to quaint guesthouses and cozy cafes. Sprinkled within are some of the nicest people we have encountered thus far and despite the language barrier, their smiles were wide and their laughs were loud. It was as if my favorite South American island town was dropped in the middle of Southeast Asia (except instead of being lined with beaches, it is lined with the Mekong - not too bad). I was charmed the instant we set foot off the boat and it made me love Laos just as I had expected to. Of course we toured the sights (the waterfalls and Buddha cave) and we enjoyed them thoroughly, but it was all the little things that kept us there for so long and left us with a desire to return.

1. Wat Pahouak

Located on the main street of town is this itty bitty temple just waiting to be appreciated for its beauty within. The fact that there is no admission fee and only one small sign highlighting it's historic importance to the town made our visit there all the more charming. Upon entering, we left our shoes at the door and tiptoed around as we silently admired the religious paintings on the wall. Being there made us feel as if we had stumbled into a secret place of worship that asked for nothing but our time and admiration. Of course, we were more than happy to oblige.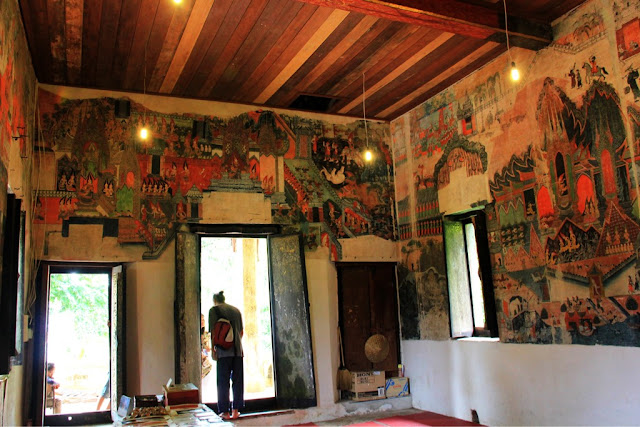 2. Hidden buddhas

Wander around Luang Prabang long enough and you are bound to notice how densely populated it is with buddhas. By the time we left, we were spotting buddhas everywhere we turned, and their vast presence added a serene spirituality to the already lovely Luang Prabang.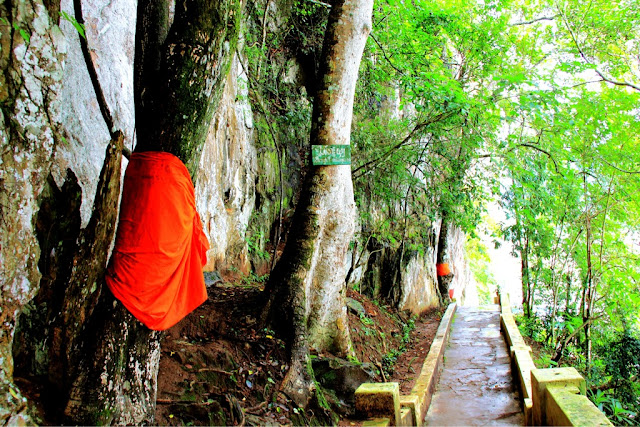 The practice of wrapping a safron robe around a tree was described to me by a local as a "belief" and a "trick." Tribal people dress trees as monks to fight deforestation because it would be immoral to cut down a spiritual tree.
Buddha's footprint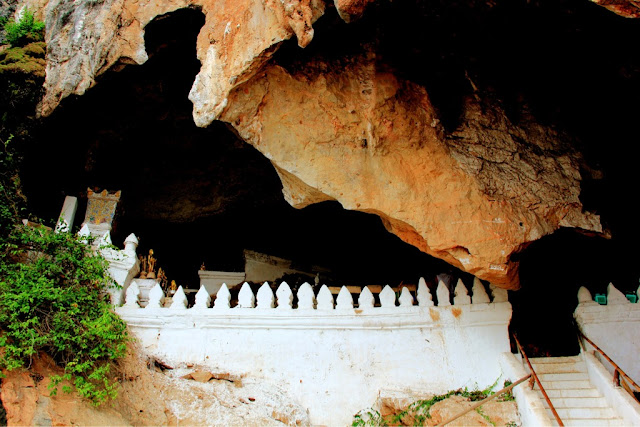 We took a half day to visit this Buddha cave which holds atleast 7,000 Buddhas inside. If you visit this cave, buy your ticket down by the Mekong. It is cheaper than buying it through a travel agent (which is what we did and all they did was walk us to the riverside anyway- don't you hate it when that happens).

3. Fruit shakes

Since stumbling upon them in Thailand (thank you Rebecca), we literally couldn't go a day without having one, sometimes two. Now, they have become a staple in our summer diet, and at 50 cents a pop in Laos, they continuously kept us cool on even our hottest days. For some reason, the ones we had in Laos were better than any before and once I discovered the combination of strawberry and lemon, there was no turning back.






4. The Night Market

Every popular tourist town in Southeast Asia is home to a night market of sorts, but the one in Luang Prabang is something else. This market draws you in like no other, and from the moment you enter, you immediately feel curious, excited and slightly magical all at once. Maybe it comes from the glowing hanging lanterns or the warm handwoven scarves, but all I know is that every single thing inside is pure eye candy wrapped in a golden aura.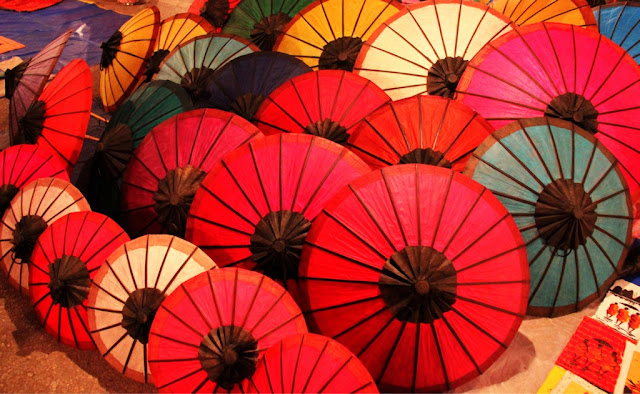 This was Andy's contribution to the night market. At this stand, you can buy a childrens book and donate it to a school in Laos.
My favorite souvenier! The one thing we collect from our travels are Christmas tree ornaments (in hopes that one day our tree will be covered with tokens of our travels). They aren't always easy to come by, and if you use your imagination you can turn many things into ornamnets. I saw this little monk sitting in a basket and I knew it would be perfect, so the woman kindly added the golden string to it for me.



5. Rope-swings & Waterfalls

One of the most popular things to do in Luang Prabang is to spend a few hours at the waterfalls located outside of town. There is a walkable path that follows the cascading falls all the way to the top, and it eventually leads you to the largest waterfall of them all. We made the trek and we loved the sight, but what we enjoyed even more were the little swimming pools spread throughout. Even more fun than swimming was jumping, diving and swinging into the falls using the rope swing provided. The beautiful thing about these waterfalls in particular is how easy they are to walk on. The rocks are not slippery at all making it an easy feat to get to any part or pool within the cascades.

Getting there: Personally, I think the best way to get there is by tuk tuk. It waits for you while you are there, and if you share it among 5 people, like we did, it comes out to be pretty cheap. We met other travelers who opted for the motorbike option, but they still found it trying, and only hardcore bikers should attempt to do it using just a pedal bike. Anyway you choose, keep in mind that much of the way there is uphill and it is not as close to town as it appears.




Andy's rope swinging skills were quite impressive.
Mine are still developing, but I was pretty scared to do it in the first place.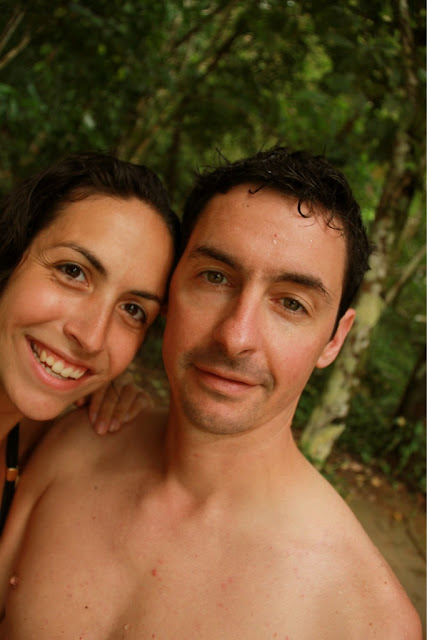 The grand finale.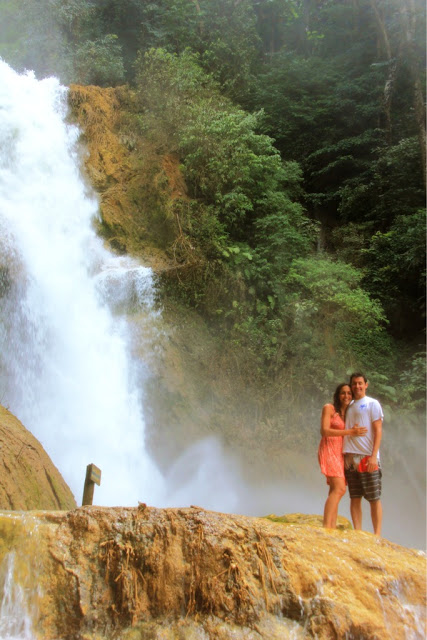 6. The dinners we shared

Every evening down a small alleyway located right in the middle of the night market is the perfect place for dinner. Lining the narrow street are tables of vegetarian buffets and piping hot barbecues grilling up the daily catches of fresh meat and fish. Andy and I would pick out our fish by hand, and watch it get sufficiently grilled and then sprinkled with lemon juice. After much anticipation, with chopsticks in hand, we would together devour our dinner, while taking swigs from a large BeerLao. There was something romantic about the dinners we shared in that alleyway, and while we have had many like that since, only few have compared.





As I write this post, I am sitting on an island in the Southern part of Thailand, and this is STILL the best fish we have ever tasted!



7. Being barefoot

In addition to wanting clean facilities, it is also a common belief amongst some southeast Asian cultures that the feet are the lowest forms of the body. It is impolite to put them (or shoes) on furniture, or even point them towards another person. So it came at no surprise that when entering guesthouses, internet cafes and even travel agencies, it was customary for us to leave our shoes at the door. Walking the streets, we would see piles of shoes outside establishments. It may not seem special to some, but as well as feeling more sanitary, it also felt extremely comforting making everyplace we visited feel a little more like home.






8. The whiskey

I'm just kidding! The whiskey was disgusting, but... the man who we got it from was wildly amazing. His belly was large and his laugh was infectious. He was so excited for us to drink his whiskey, we couldn't resist. We took shots with him before dinner one night (lucky me, mine was free) and even though we didn't hide our dislike for it, he seemed more than pleased. Pay him a visit down by the river, and you wont regret it. Well, maybe you will. Either way be prepared, his shot glasses are large!

Here we are after climbing the stairs to Phu Si. The views from above were so worth the hike!


Thank you Luang Prabang for showing all the wonderful things this little river town has to offer. Big and small.