Slow and low, that is the tempo...
Travelers have many options when it comes to crossing the border from Thailand into Laos, however we decided to honor the Laos way of life by opting for the 2 day slow boat trip down the Mekong. For any traveler, the Mekong River is a treat to be seen, let alone traveled, and the experience was the perfect way to begin our stay in Laos. In total we spent about 16 hours cruising down the Mekong at a slow and steady pace with nothing left to do but sit back, relax and take in the scenery. Taking this river trip had always been on the top of Andy's to do list, but I on the other hand was slightly hesitant as 2 full days on the Mekong seemed like quite a lot, if not, too much time. But after our slow departure (and it was slow, we were in Laos after all) we began our descent down the river, and I knew right then and there that this would be a trip to remember.
For three days we were part of an intimate community of travelers, all with our own journeys. Together we conquered the Mekong, took over border towns and saluted our beers as we shared our stories. With Laos to our left and Thailand to our right, we were mesmerized by our surroundings, and our days were spent watching the sky change and the jungle deepen. Andy was amazed and astonished the whole way through and I can't remember a time where I felt more at peace with the world around me. The Mekong is simply majestic.

How we got there:To begin our journey we took a small bus from Chiang Mai to Chiang Kong (Thailand) where we had just enough time to find a guesthouse and a place to eat. Then early in the morning we took a ferry to Houeixai. After getting our Laos visa upon arrival we hiked with our packs to where the slow boat departs. After our first day on the river, we stopped for an overnight stay in Pakbeng, a small small town thriving on the tourists that the slow boat brings in. At the end of our 2nd day on the boat we ended up in Luang Prabang, Laos, which we were happy to make our home for a bit.

There are many tourist agencies in Chiang Mai offering package deals that cover transport to Chiang Kong, dinner, hotel, breakfast, a slow boat ticket and a lunch to take with you on the boat. We ended up doing the journey without the package and it saved us roughly $10-$15. We also had the freedom to choose our own guesthouse and our own meals, which for us was a big plus. If you are on a tighter budget you could even save more doing the trip on your own. There were plenty of guesthouses in Chiang Kong for only $5 a night. Also buy your passport photos at the dock where the ferry is. It is much cheaper than doing it through a hotel!



We boarded the ferry to the left in order to get into Laos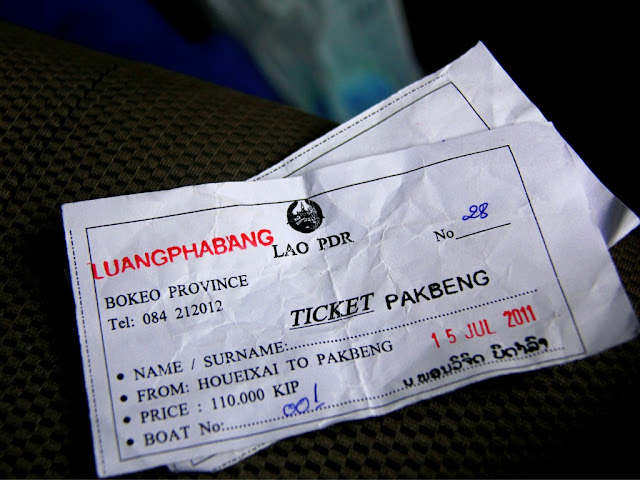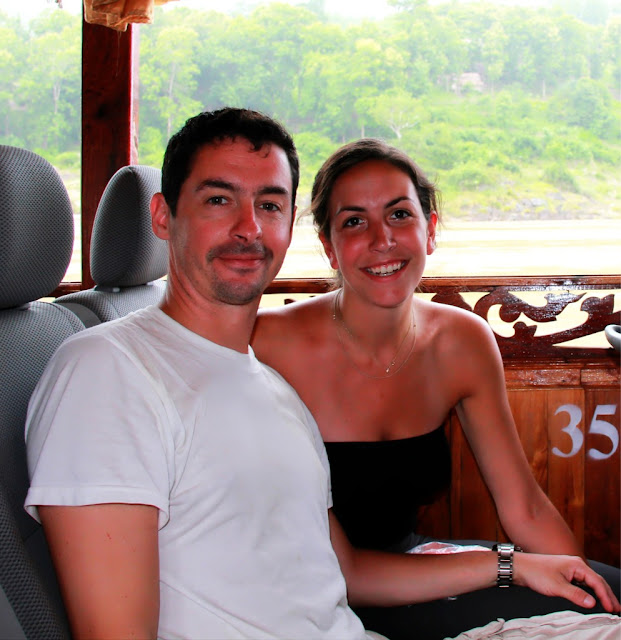 Andy was wearing a permanent grin the whole time! I wonder why...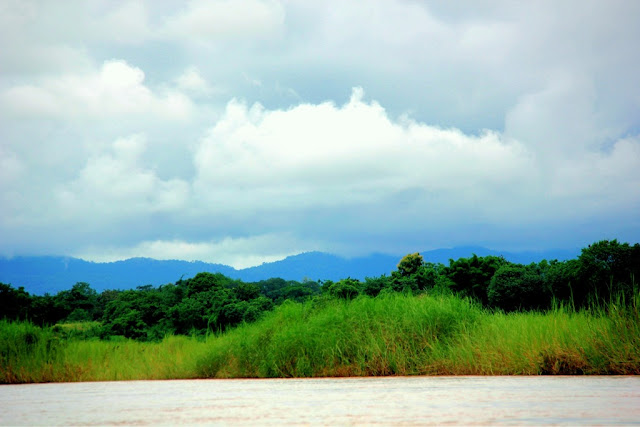 Children playing by the riverside.
A fisherman at work.
Simply relaxing.
It usually rained about once a day. To be honest, we didn't mind, but when it got bad, down came the tarps...
It was a little crazy with the tarps down, but it never lasted long. It felt as weird as it looks.
Heart of Darkness meets Apocolypse now. The jungle is serious and the Mekong just winds you through.
A fisherman at dusk.
Good night Mekong.